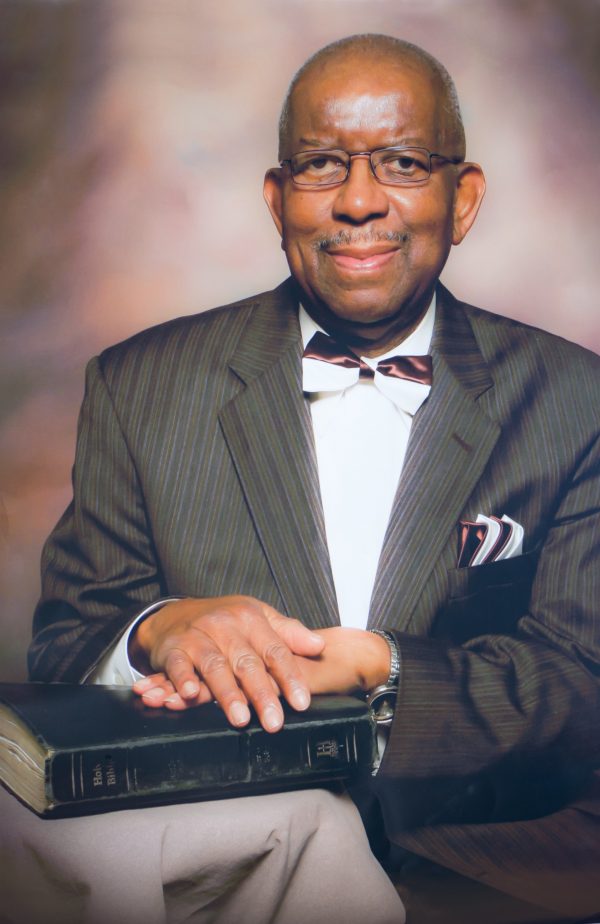 Limmie Nathaniel Forbes
Bishop Emeritus

Bishop Limmie Nathaniel Forbes
"A Living Example of Love and Concern"
"Before I formed thee in the belly I knew thee, and before thou camest forth out of the womb I sanctified thee, and I ordained thee a prophet unto the nations."    Jeremiah 1:5
Limmie Nathaniel Forbes was born on October 24, 1936 in Wayne County, North Carolina. He is the fourth of ten children born to the late Willie Scott Forbes, Sr. and Mrs. Sally Melvin Forbes. He attended Eureka Elementary School, Pikeville Training School, and Hampton University. At the tender age of nine, he was truly converted on a Sunday in July of 1946 at the Leventon Chapel Free Will Baptist Church in Stantonsburg, North Carolina. He received the gift of the Holy Ghost one morning on his way to milk the cow. The bucket went one way and he went another way, praising the Lord.
Being called by God, he preached his first sermon on the third Sunday in May of 1959. His scripture text came from St. Matthew and he chose for a subject, "You Need It and You Must Have It". Now a preacher, he desired to be an Evangelist. But being led by God on December 29, 1959, Faith Temple No.1 in East Orange, New Jersey was established. Again being led of the Lord, in 1962, Faith Temple #2 in Seat Pleasant, Maryland was established. In 2003, Bishop Forbes established the Faith Temple #1 and #2 Extension Church in Wilson, North Carolina. This church was established to allow the members of Faith Temple #1 and #2 who have relocated to North Carolina to continue to worship together.
In 1964, he was chosen by God and selected by the people to serve as Vice Moderator of the Middle Eastern District Original Free Will Baptist Conference. He served in that capacity for four years. In 1968, he was elected as President of the Conference. At that time, the title of Moderator was changed to "Bishop". Because of his vision and leadership, the Conference grew tremendously. By the early 1970's, the Conference had churches as far North as Connecticut and as far South as Georgia.
Bishop Forbes desired for a headquarters to be established where the Conference could hold large meetings and that it be a landmark that the Conference could be identified by. By vision in planning, unity of purpose, cooperative endeavor, and above all, faith in God, with God in front and the illustrious Bishop L.N. Forbes to lead His people, the dream became a reality. In November of 1975, the Original Free Will Baptist Annual Conference was held in its new edifice. This building is located in Wilson, North Carolina, and it is named the L.N. Forbes Tabernacle, Inc. Bishop Forbes retired as President of the Original Free Will Baptist Conference in 2013.
He is the Bishop Emeritus of the General Original Free Will Baptist Conference of America. He is also the former Vice President of the National Convention of Free Will Baptist, USA. He also served as the Past President of the East Orange Clergy Organization. Bishop Forbes served as Past President of the Hampton Ministers' Conference of Hampton University in Virginia.
Bishop Forbes received an Honorary Doctor of Divinity Degree from Atlantic Christian College in Wilson, North Carolina. He also received an Honorary Doctor of Divinity Degree from New York Bible Institute. He received his Doctorate of Humane Letters in Education from The United Christian College of Goldsboro, North Carolina. Bishop Forbes is also the author of "The High Cost of Leadership" published by M.L. King Fellows Press.
In November of 1988, Bishop Forbes was joined in holy matrimony to the late J. Ramona Artis Forbes. His beloved First Lady went home to be with the Lord in December of 1996.
In November of 1992, the Mayor of East Orange, along with the East Orange City Council dedicated Halsted Street as "L.N. Forbes Plaza" in his honor. Bishop Forbes is the oldest tenure pastor in the city of East Orange. He, along with the churches he has pastored, serves as a vital part of the community. Under his leadership, the churches established various outreach programs including a nursing home ministry where services are sponsored for elderly residents who are unable to go to church. They also have active mission ministries that participate in feeding and clothing the homeless residents of their respective cities.
Bishop Forbes was able to retire as Pastor of Faith Temple #1, Faith Temple #2 and Faith Temple Extension Churches and be blessed to reside in Wilson, NC, in his last days. Bishop Forbes went home to be with the Lord on Thursday, May 23, 2019. His works will forever speak for him and follow him. He will always be respected and remembered as a man of Love and Concern for all mankind.